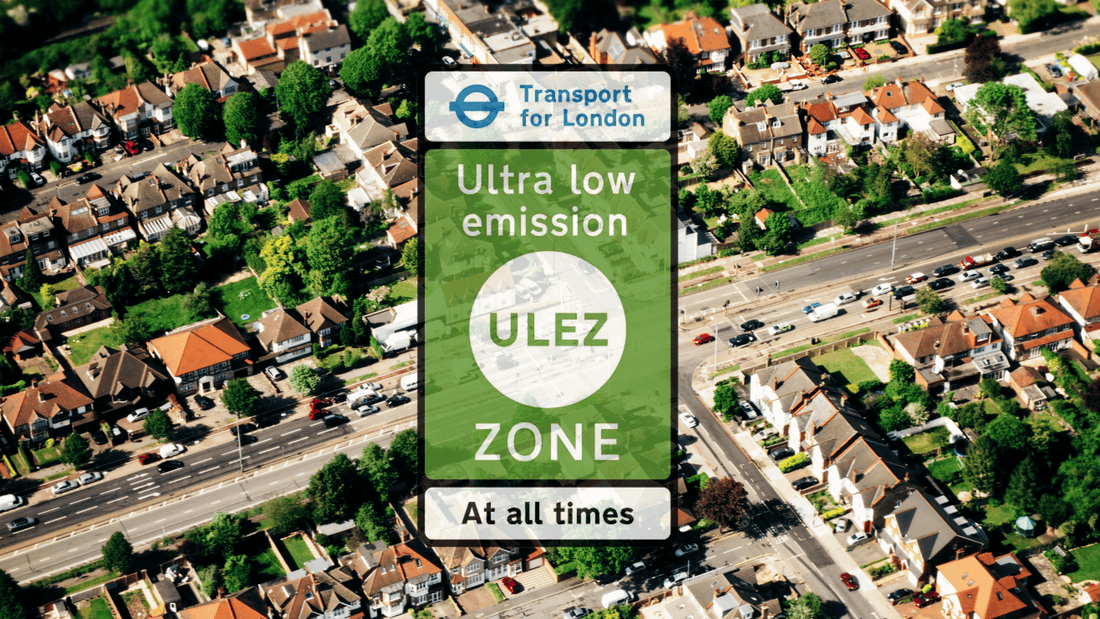 ULEZ Expansion: Everything You Need to Know
London's air quality has long been a cause for concern, with poor air quality impacting the health of its residents. In an effort to tackle this issue, the Ultra Low Emission Zone (ULEZ) was first introduced in April 2019. Initially covering the same area as the London Congestion Charge Zone.
The ULEZ has since expanded in 2021 to include the area inside the North and South Circular roads. And now, from 29th August 2023, the ULEZ is set to expand even further, covering the entirety of Greater London, up to the city's borders with Buckinghamshire, Essex, Hertfordshire, Kent, and Surrey.
Greater London Areas Included in the Expansion... Barking, Barnet, Biggin Hill, Brentford, Bromley, Croydon, Dagenham, Edgware, Edmonton, Enfield, Finchley, Harrow, Hayes, Hornchurch, Ilford, Kingston upon Thames, Mitcham, Richmond, Romford, Ruislip, Southall, Sutton, Twickenham, Upminster, Welling, Wembley, Wimbledon and Woodford.
Why was the ULEZ introduced?
The primary goal of the ULEZ is to improve air quality in London by reducing emissions of nitrous oxides and particulates. The latest data from Transport for London (TfL) shows that road transport is the largest contributor of nitrogen dioxide and particulate matter emissions in Greater London.
These pollutants have been linked to various health issues, including cancer, asthma, lung disease, and even dementia. In fact, thousands of Londoners die prematurely each year due to the effects of air pollution.
How does the ULEZ work?
The ULEZ sets exhaust emissions standards that vehicles must meet when driving within its boundaries. If a vehicle does not meet these standards, the owner is required to pay a daily charge to enter the zone. The ULEZ operates 24 hours a day, 365 days a year, unlike the Congestion Charge zone, which does not impose restrictions at night.
Which vehicles are affected by the ULEZ?
The ULEZ primarily affects diesel cars that do not meet Euro 6 emissions standards and petrol cars that do not comply with Euro 4 standards. Generally, diesel cars registered before September 2015 and petrol cars sold before January 2006 will have to pay the ULEZ charge. However, there are exceptions, and it is essential to check the compliance status of your vehicle using the TfL vehicle checker which can be found here.
How much is the ULEZ charge?
The ULEZ charge is set at a standard rate of £12.50 per day for non-compliant vehicles. This charge is in addition to the £15 Congestion Charge, bringing the total cost for some vehicles entering central London between 7am and 10pm on weekdays up to £27.50. It is important to note that payment can be made up to 90 days in advance or up to midnight on the third day after driving in the zone.
ULEZ Scrappage Scheme
To ease the transition for those living and working in Greater London, the Mayor of London, Sadiq Kahn has launched a £110 million scrappage scheme. This scheme provides financial support for eligible individuals and businesses to scrap their highest-polluting vehicles.
The previous scheme, launched in 2019, resulted in 15,000 non-compliant cars being taken off the roads. The updated scheme, available from July 2023, expands eligibility to all families claiming child benefits and businesses with fewer than 50 employees.
Discounts and Exemptions
To assist disabled Londoners and community transport providers, the ULEZ offers discounts and exemptions. The existing ULEZ grace periods have been extended, and new grace periods have been introduced to allow for a smoother transition. It is important to understand the specific criteria for these discounts and exemptions to ensure compliance with the ULEZ regulations.
How to Pay the ULEZ Charge
There are several options available for paying the ULEZ charge. If you frequently drive into the zone in a non-exempt vehicle, you can register for the Auto Pay system. This system covers both the Congestion Charge and the ULEZ charge, allowing for seamless payments. Individual ULEZ payments can also be made online through the TfL website or via the TfL phone app. For those who prefer to pay over the phone, a dedicated hotline is available.
Penalties for Non-Payment
Failure to pay the ULEZ charge can result in penalties. If the charge is not paid, drivers can be fined £180, reduced to £90 if paid within 14 days. It is crucial to ensure compliance with the ULEZ regulations to avoid unnecessary fines and penalties.
The Impact of the ULEZ
The ULEZ has already had a significant impact on air quality in London. According to TfL, harmful nitrogen dioxide (NO2) levels are 46% lower in central London and 21% lower in inner London than they would have been without the ULEZ scheme. Since its introduction in 2019, nitrogen oxide (NOx) emissions have been reduced by 23% across London, resulting in a cumulative reduction of 13,500 tonnes.
As the ULEZ expands to cover the entirety of Greater London, it is expected to have an even greater impact on air quality. The scheme aims to benefit not only the health of Londoners but also the environment as a whole.
What's the Alternative if you have a Non-Compliant Vehicle?
Of course, if you are looking at an alternative form of transport to get about in the ULEZ then electric bikes or e-bikes are not only compliant but can also be ridden in cycle lanes which means you avoid timely traffic jams, and help to reduce congestion.
What's more if you are looking for an e-bike that has added safety features, such as indicators, rear-view mirrors, disc braking system and front and rear LED lighting then look no further than the Eskuta SX-250! .
The Eskuta SX-250 e-bike a completely road legal EAPC or Electrically Assisted Pedal Cycle which means you do not have to pay any tax, insurance or have a licence to ride one.
Full EAPC UK regulations can be found here.
View the road legal and UK EAPC Law Compliant Eskuta SX-250 electric bike here