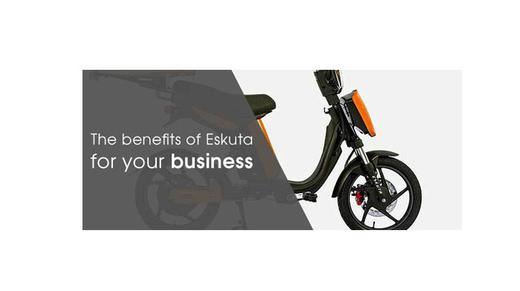 Electric delivery bikes: The ideal alternative for cargo bikes and last mile delivery
Is it time for change? #GetVolts...
Electric delivery bikes offer the ideal solution for true cost savings when it comes to last mile deliveries. Cargo bikes are brilliant, it's true; but are they cost effective?
Petrol, insurance, MOT, road fund license, CBT training... They all cost money and it's a cost that you can count back in to your business profits.
Electric bikes by Eskuta are advanced and can easily be compared to a modern moped with style and performance. The difference is costs.
Cost savings of switching to electric last mile delivery
No more

 

need to worry about your delivery driver's license
No more

 

cost of petrol or road fund license (formally "road tax")
No more

 

need for car/bike insurance*
With an electric delivery bike, your last mile deliveries can be done on the simple charge of a battery and the road rules are the same as those of a bicycle. So utilising the bus lanes, delivering to limited noise areas and negotiating traffic is simple.
Bike features include everything you need to safely navigate the busy urban roads including lights and indicators. They're powered using LED lights so battery consumption is minimal.
What else is there to consider?
Well... The colour of the bike is important. Choose from 4 colours, get your logo on the cargo box and send your delivery drivers off on their last mile deliveries in style and comfort as a friend of the environment.
Check out the cargo bikes from Eskuta today.