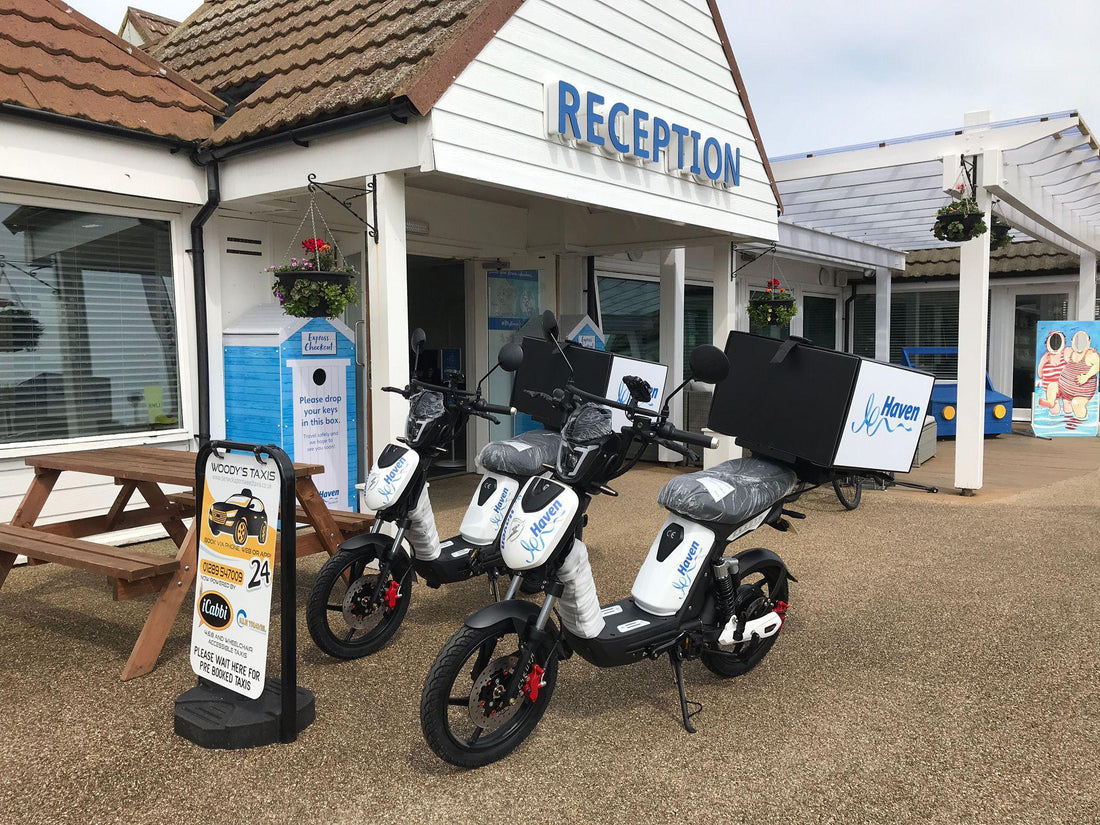 Haven joins the electric mobility revolution with the Eskuta SX-250 e-bike across 9 sites.
Our SX-250 e-bike has proven to be a big hit with many Holiday Park Operators around the UK including holiday park giants Haven, who recently took delivery of 18 of our SX-250 delivery bikes across 9 of their UK sites.
So just how are our electric bikes being utilised by Holiday Park Operators?
Well, the majority of operators offer some form of takeaway on site for both holidaymakers and in some cases external customers from the local area. Our SX-250 delivery bike with delivery box has enabled many Holiday Park Operators to provide a great cost effective, sustainable and importantly scalable delivery service. Likewise those that have a grocery shop on site have been able to offer grocery delivery as an option to guests.
Some parks have also chosen to use a small fleet of our SX-250 leisure model bikes to offer a bicycle rental service allowing holiday makers to explore the local area and to further enhance the parks range of guest services.
Another popular feature of the SX-250 with Holiday Park Operators is that both the delivery and leisure models can be completely custom branded for a sleek and professional look ensuring your Holiday Park's name is always visible when out and about.  
Our Managing Director of Eskuta, Ian O Connor added, "The popularity or our SX-250 e-bike is testament to the fact that electric mobility is becoming more and more mainstream throughout the UK. 
"We know that Holiday Park      Operators require flexible solutions to their mobility needs. The SX-250 offers this freedom of motion in an affordable, cost effective and sustainable package.
"At a cost of just 10p per charge and the fact that for delivery anyone over the age 16 (14 for leisure use) can ride one due to the fact the bikes require no tax, licence or insurance it really does reduce the costs in comparison to other methods of petrol based mobility.
"We are currently in the process of delivering 18 delivery bikes to various Haven sites across the UK who are using our Eskuta SX-250 as a sustainable and cost-effective way to deliver food and anything else for that matter on site and in and around the sites surrounding areas efficiently.
"Importantly, our bikes can be completely custom branded meaning your brand is always on display wherever the bike goes. We also do a consumer version of the bike which holiday park operators can use as part of a bike rental scheme for holidaymakers." 
So if you are are a Holiday Park Operator looking for a sustainable transport solution for your site then you should definitely consider the Eskuta SX-250.
Remember the bike itself is classed as an EAPC or Electrically Assisted Pedal Cycle which means it is a road legal e-bike so, no licence, tax or insurance is needed to ride one.
The innovative moped inspired design provides an alternative and more substantial looking bike in comparison to the more traditionally styled electric bikes on offer.
Enhanced features of the SX-250 include, rear view mirrors, indicators, motorcycle grade adjustable suspension, a motorcycle grade braking system, handlebar controls, LED lighting, alarm, immobiliser, keyless-go and alloy wheels with tubeless tyres.
The bikes have an average running cost of just 10p per six-hour charge with an approximate range of 40 km and max speed of 15.5 mph, additional batteries can also be purchased.
Click here to discover more or give us a call 02476 350 150