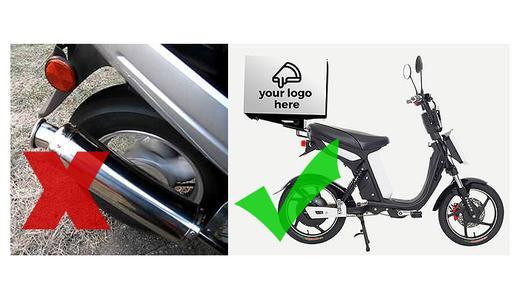 Insist on eco-friendly deliveries
Improving the environment
We're all looking for ways to help improve the environment and one method which is being addressed more and more these days is transport.
At Eskuta we are developing bikes which offer the convenience of a motor with the eco-friendliness of a bicycle, and we're using this to help businesses move away from petrol power and introducing them to electricity on the roads.
How can you help?
The convenience of take-away food, next-day delivery websites and local couriers is making our lives easier all the time - But what impact are these deliveries having on the environment? It's not a good one. In-fact - Short urban journeys on petrol mopeds contribute as some of the worst polluters on the roads.
So for you to only source your deliveries from companies who use electric delivery vehicles would have an immediate and significant impact on the carbon footprint which your delivery leaves behind. 
How are things getting delivered to you?
My local take-away use-to deliver by car. And that's the same in towns and sub urban areas all across the UK.
In urbanised areas and Cities it is more common to see local deliveries made by moped.
However - there is no reason for most of these delivering companies to switch to electric delivery bike, as was the case for my nearby Pizza house.
Using a car to deliver is expensive, polluting and actually suprisingly slow during busy times.
When the delivering company are taking 2 or 3 orders out there is no need for the extra vehicle space; An electric delivery bike is capable of making the journey quickly and with zero impact on the environment as they give off no emissions.
How can you influence the delivery drivers?
The first step is to ask before you place an order: "Do you deliver using electric bikes"?
If the answer is yes then great! You can continue in confidence.
On the other hand, if they answer "no", and plan to deliver your order using petrol powered car or moped then you might want to consider seeking an alternative company who are prepared to make the simple change to electric.
There's no harm in advising the company of your intentions - Knowing that they could lose a customer (and probably more than one) because of their choice of transport will encourage them to make the switch.
Tell your take-away
Let your local take-away know that you're not happy with the environmental impact their delivery method is having, and suggest Eskuta.com.
Running costs will be considerably less for the delivery company too, so you may even see prices be lowered!