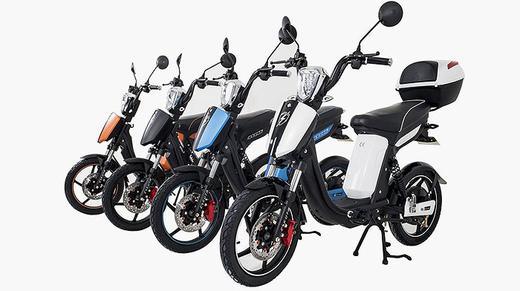 Popular Electric Mopeds & Bikes : Eskuta.com
Delivery Bikes

: The Eskuta SX-250d
Our sx-250d electric delivery bike is proving to be the most popular delivery bike in the range, all across the UK.
Ideal for local and urban deliveries for fast food restaurants and last-mile delivery, the SX-250d provides great performance, plenty of cargo space and the style and maneuverability which ranks the bike alongside even the best of the petrol powered alternatives.
This electric delivery bike has a very unique selling point too… The cost savings.
Businesses are turning to electric power from Eskuta to make huge financial savings compared to their previous fleet of petrol mopeds; whereby electric bikes don't have the high priced fuel costs, annual MOT or licencing requirements these companies had been familiar with.
It's not hard to see why urban businesses and take away delivery companies are switching their riders over to electric power; and their making an environmental statement at the same time.
The SX-250d is available to order online today: Electric Delivery Bike
2. Electric Moped: The Eskuta SX-250
The SX-250 is the non-delivery version of the above "sx-250d" moped, offering all the functions, style, cost savings and environmental friendliness of our most popular electric bike as a pedal assisted alternative for commuters, students and anyone who wants to travel around in style and make a load of great savings at the same time.
This electric bike is proving popular with commuters and young people who need transport to and from college, university or work without the worry of obtaining a licence first.
These electric bikes can be ridden on public roads, in cycle lanes and in bus lanes.
With it's unparalleled styling and design, this scooter will get you to your destination in comfort and style. The SX250 has a brushless, high-efficiency rear hub motor giving you all the torque you need to get where you want to go – and quickly.
The SX-250 is available online today: Order Your Electric Bike
3. Folding Electric Bike
: The Eskuta SF250
What better convenience? All the power, affordability and practicality of an electric bike, and the ability to fold it away and transport or store the bike quickly and easily.
Beautifully designed and the lightest EAPC on the market, the SF250 is the benchmark for practicality and style. Weighing only 19kg and with a host of features found only on larger bikes, no other folding bike looks or performs like the Eskuta SF250.
The patented scissor mechanism is the unique feature; folding and unfolding has never been easier. As standard, it comes with a removable Panasonic lithium ion battery for reduced weight and charging practicality, an LCD display and front and rear disc brakes.
The SF-250 is available online today: Order Your Folding Electric Bike