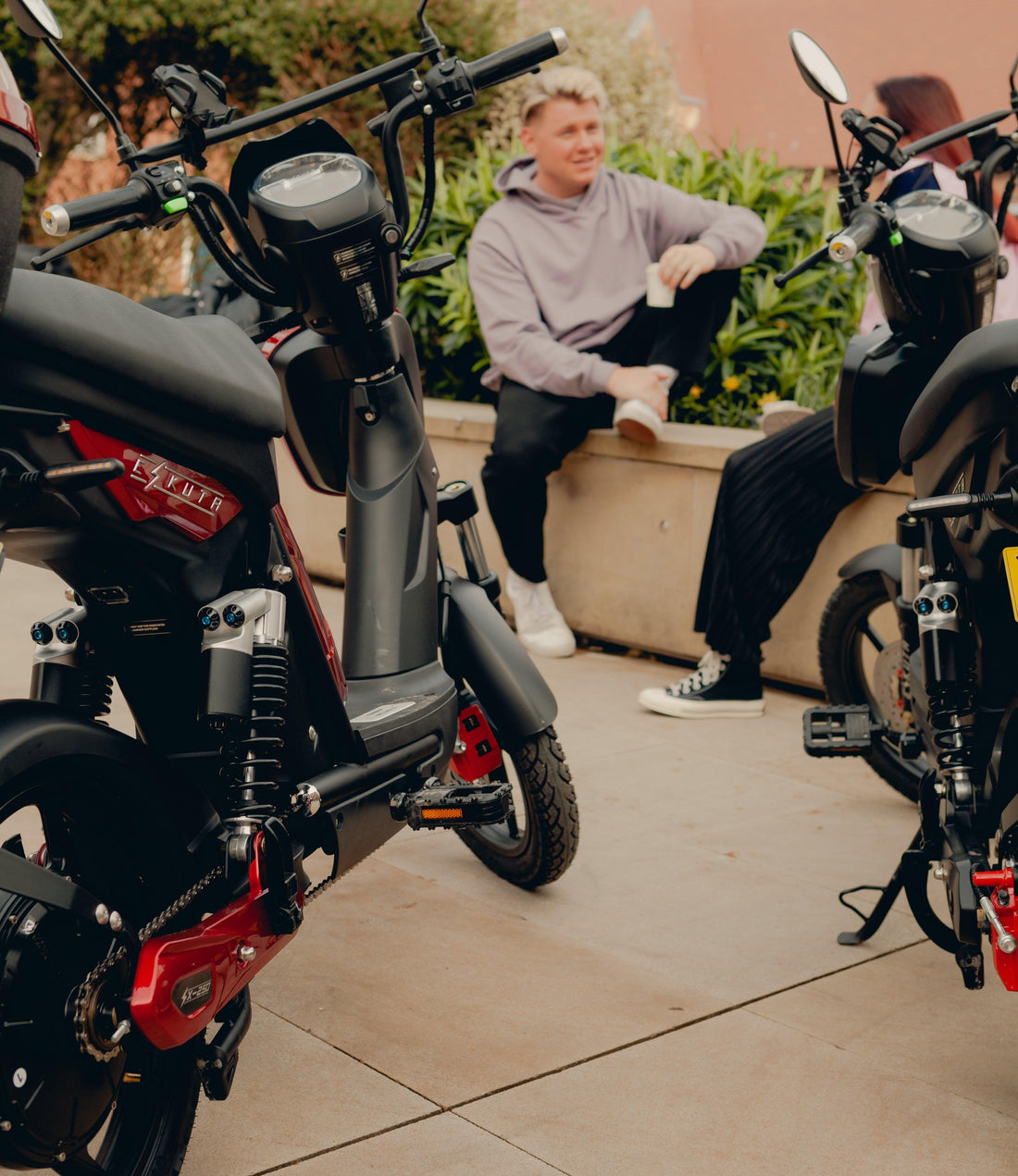 The growing popularity of micromobility in the UK
The growing popularity of micromobility in the UK is a trend that has gained significant momentum in recent years.
So, what are we talking about when we say 'micromobility'?
Well, micro mobility refers to modes of transport that are relatively small, lightweight and intended for short distances. Examples include bicycles, electric bicycles or e-bikes, e-scooters, and electric skateboards.
There is an increasing awareness of the potential benefits of using micromobility in our everyday travel. The most significant is the positive effect these vehicles have on helping to reduce congestion and emissions in our towns and cities.
According to the Department for Transport, cycling has increased in popularity in the UK over the last decade. In 2021, 4.2 billion miles were cycled on British roads. 
During the COVID-19 pandemic, cycling saw a further surge in popularity. With many people opting to avoid public transport and instead use bicycles as a means of transportation. In London, cycling levels rose by 22% during the first lockdown in 2020.
The rising popularity Electric Bikes
Electric bicycles have also seen a huge surge in popularity in recent years. Sales of electric bikes have tripled in the past 5 years, from around 55,000 bikes sold in 2017 to 160,000 in 2021. E-bikes, like the Eskuta SX-250 offer the ability to cover greater distances with less effort. Making them a great option for those who might otherwise drive a car for short journeys.
In-fact e-bikes are the fastest growing category within micromobility, representing approx 30% of all bikes sold in the UK.
The future of Electric Scooters in the UK
E-scooters, which are still subject to trial schemes in UK cities, have also become increasingly popular. They offer a low-cost and environmentally friendly mode of transportation for short journeys. According to a report by the BBC, around 200,000 e-scooter trips were taken in one month in Birmingham during a trial in 2020. 
What are the benefits of micromobility?
The benefits of micromobility are clear. By reducing reliance on cars, these modes of transport have the potential to decrease congestion and emissions in urban areas.
According to a report by Transport for London, one e-bike journey can save around 100g of CO2 emissions compared to a car journey over the same distance. Additionally, the report found that e-bikes can help to reduce congestion, with one e-bike journey saving an estimated 0.6 minutes of car travel time.
The future of micromobility in the UK
Overall, the rise of micro mobility in the UK is a trend that is set to continue. With the increasing awareness of the benefits for reducing congestion and emissions in urban areas, it is likely that more people will turn to these modes of transportation for short journeys. As a result, there is a growing need for investment in infrastructure and regulations to ensure that these modes of transportation can be used safely and effectively.
So, what forms of micromobility do we offer here at Eskuta?
Well, if you're looking for a fun and eco-friendly way to get around town, look no further than the Eskuta SX-250 e-bike and KS-450 e-scooter. These two great form of micromobility are perfect for short trips and daily commutes. They offer a range of benefits that can make your life easier and more sustainable.
This stylish electric bike is powered by a 250-watt motor and can reach speeds of up to 15.5 mph as an e-bike you do not need any licence to ride one.
It has a range of approximately 45 miles on a single charge, which means you can easily use it for your daily commute or for running errands around town.
The SX-250 electric bike also comes with a range of features, including a comfortable saddle, hydraulic disc brakes, LED lights, indicators and rear-view mirrors, making it a safe and reliable choice for any rider over the age of 14.
The Eskuta KS-450 e-scooter is a sleek and lightweight electric scooter that is perfect for zipping around town. With a top speed of 15.5 mph and a range of up to 20 miles on a single charge, the KS-450 electric scooter is a great choice for short trips and urban commutes.
It's also incredibly easy to ride, with a simple and intuitive interface that anyone can master. It also has a removable battery that sits neatly in the stem of the scooter.
(Please note: at this current time privately owned E-scooters are not legal to ride on public roads)
So why should you choose these micromobility vehicles over other modes of transportation?
For one, they're much more environmentally friendly than traditional combustion engine vehicles. Both the Eskuta SX-250 electric bike and KS-450 electric scooter are powered by electric motors, which means they emit zero emissions and are much cleaner than petrol or diesel vehicles. This makes them a great choice for anyone who wants to reduce their carbon footprint and help make their city a greener place.
Micromobility will reduce congestion in our towns and cities
Another benefit of micromobility vehicles is that they're incredibly convenient and cost-effective. They're much cheaper to operate than a car or taxi and they can help you avoid traffic congestion during peak hours. Plus, they're a lot of fun to ride, and they can help you explore your city in a whole new way.
In conclusion, the Eskuta SX-250 eBike and KS-450 e-scooter are two great examples of micromobility.
They're eco-friendly, convenient, and cost-effective. Making them a great choice for anyone who wants to get around town in style.
So why not give them a try and see how they can transform your daily commute?