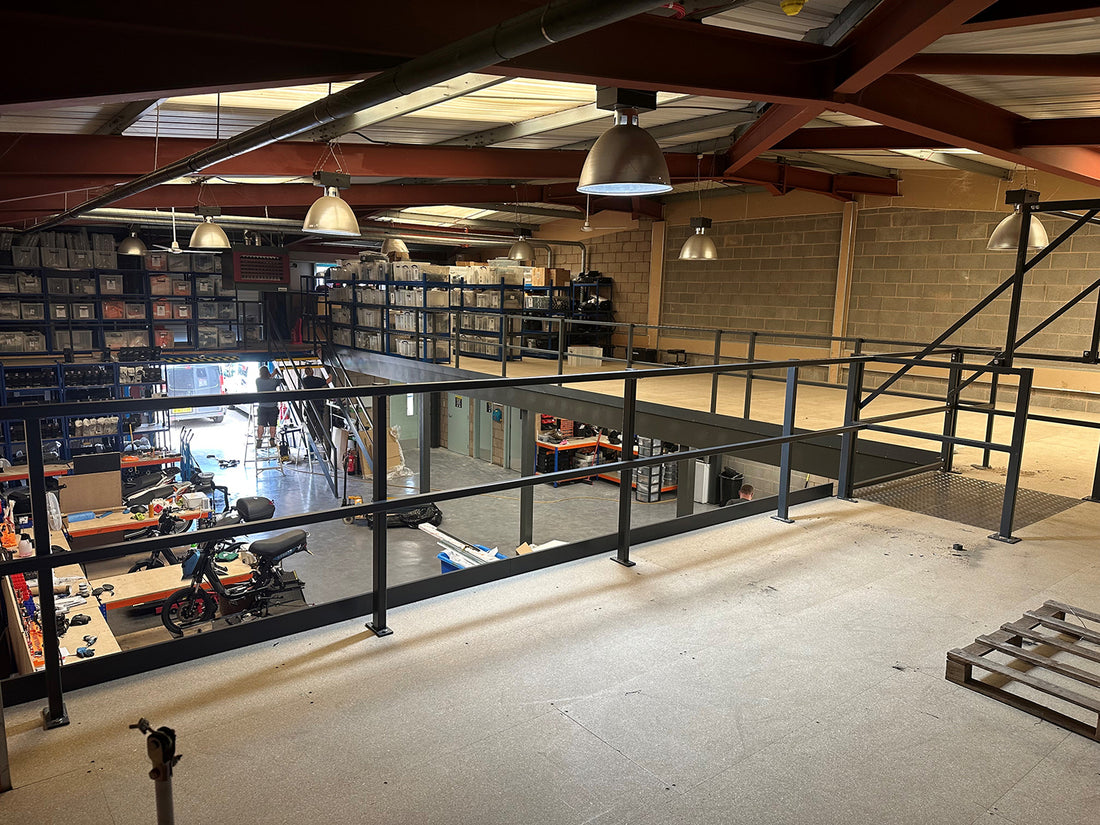 Charging Forward: Eskuta's Exciting HQ Expansion to Keep Up with Demand
Eskuta is stepping on the accelerator and adding a brand-new upper floor to our HQ. This is not just any upgrade – it's an Eskuta upgrade and it's all about making more space to house more of our incredible e-bikes.
Right now, if you've been following along, you will know that Eskuta has been making waves from our base at the Bermuda Innovation Centre in Nuneaton. But this is where the excitement charges up: We're adding two-new mezzanine floors to both of our current business units.
With the expansion, we're unlocking an additional 160 square meters of pure potential. Think of it as giving wings to our outreach, reaching more of you with our awesome 'moped styled' e-bikes and slashing those waiting times. 
But wait, there's more to this story than just e-bikes – it's about giving our local community a boost too. The added space means more opportunities for jobs right here in our area.
Eskuta Managing Director, Ian O'Connor, said,
"We're about to make some big waves with Eskuta's expansion. Adding this new floor is just the beginning of our grand plan. With more space, we're all set to speed up deliveries, explore new avenues, and champion the future of e-mobility, as we steer towards eco-friendly solutions and combat traffic congestion in our towns and cities.
We're proud to continue the historic legacy of motorcycle and pedal cycle innovation that's deep rooted in Coventry, Birmingham, and the nearby regions."
Thinking back to how the Eskuta journey started in 2015 under Ian O'Connor's guidance, we've become known for crafting cutting-edge electric bikes that turn heads with their sleek moped-style design. Whether it's cruising around town or acing last-mile deliveries, our e-bikes effortlessly blend style with functionality.
And let's not forget our latest well-deserved accolades! We were awarded the 'Small Business of the Year 2022' award from Reach Media's BusinessLIVE awards. Plus, our super-cool SX-250 e-bike charged its way to being named the 'Best Moped Style E-Bike of 2023' in a recent article by the experts at Expert Reviews.
With the new floors due for completion in early September 2023, our Light Electric Vehicle journey is gaining momentum, making the world of e-bikes even more thrilling, one innovation at a time. So stay tuned – the road ahead is looking electric!