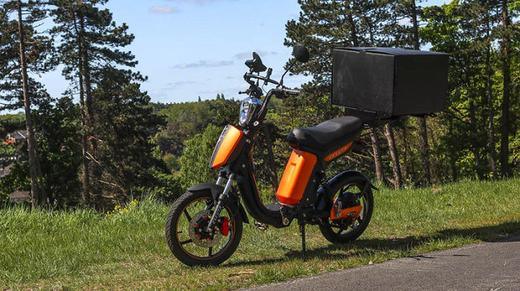 The True Cost Savings & Environmental Advantages of Electric Cargo Bikes
Finding money-saving solutions is a key workload for any company. If your business involves local deliveries then switching your vehicle fleet to electric bikes is great option.
There's also a lot of pressure on businesses in the United Kingdom to do more to cut their carbon-footprint and Eskuta are providing the ideal vehicle. See the Eskuta SX-250d for a perfect delivery bike.
Cost Savings in the UK
Overall cost savings of replacing petrol engined vehicles with an electrically powered bike are considerable.
In most cases customers buy an electrically assisted pedal cycle solely because of the money that they will save by using these bikes to commute or provide a delivery service.
With the bikes being electrically assisted, there's no need for an MOT or any other annual check. We provide you with a maintenance list on purchase and as long as this is adhered to, there's no reason your bike won't be running smoothly.
Vehicle excise duty is also not payable with an electric bike, another noticeable cost saving for any rider.
Fuel costs are ever increasing - With an electric bike you're going to start saving immediately, by only needing to charge the battery every 50 miles (subject to the riders weight).
For businesses: When you're delivering locally, petrol power can be a significant cost which has to be factored in to your prices.
Often this means charging higher prices for your product or service, or charging customers extra for delivery.
Shrink these costs by switching to an electric delivery vehicle. You can split the savings by charging your customers less and increasing profits.
Read more about: The cost savings of electric bikes
Environmental Advantages
We have spoken before about the enormous environmentally advantages of switching from a petrol moped to electric delivery bikes, and it's a point worth stressing.
Electrically assisted bikes emit zero carbon, which means there is no impact on the environment when riding the bike, which is a significant deduction from petrol engines.
If you're looking to push your business forward ethically, or reducing your carbon footprint in day-to-day life then this switch is an obvious one.
Style & Image
For commercial brands, the style and image of your vehicle is important, and branding often plays a key role in the choice of design which you opt for when selecting a delivery vehicle.
Eskuta have acknowledged this and factored the requirements of branding in to the design of our electric cargo bikes.
Delivery boxes on the back of the bike offer the perfect location for branding, visible from 3 directions and distinctively in-line with the eco-friendliness of your choice of vehicle.
Our aim is to make it possible for delivery services to be able to provide a service of last-mile delivery in the most eco-friendly and cost-effective manner possible. Is it time your business went green?